the"Flying Guitars" CD Sampler!
Is now downloading, flying, and soon will be playing guitar.
Free Shipping! I Guarantee that you will like it! Only $12.95 per CD
Return if not satisfied. Digitally recorded & mastered. More Information.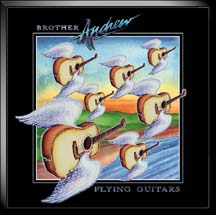 To the Secure Order Page

Get shockwave
It is a Sound/Video Plug-In for Netscape & Explorer, well worth the download time!
Go and get it then come back to this site to hear the Guitars Flying!!
" International Open Tuning Acoustic Guitar Instrumental Music"

---

All art and music on this page is ©opyrighted and protected.
© Bro Andrew 's Audio Labs, Cayucos, California USA